Course details
【3 hours eating and drinking all you can eat 335 species ⇒ 2,500 yen】 Cheese dachalbibi as well as all you can eat ⇒ free (tax included)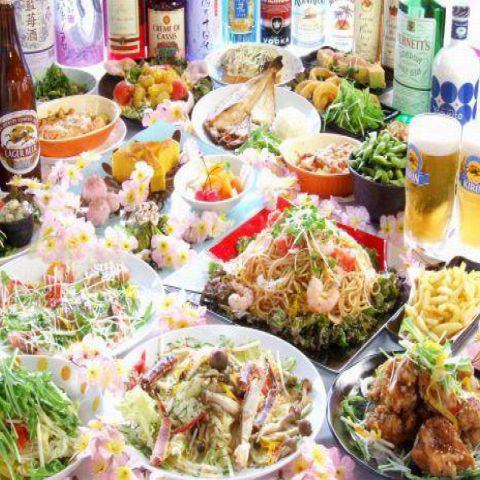 By using a coupon2500 Yen
All you can eat and drink 3 hours · Tax included price 2500 yen including all
All-you-can-drink available

All you can drink menu is prepared according to the course with 300 · 800 species ♪ Enrich menu such as barreled draft beer, cocktail, shochu, whiskey, wine, fruit wine, sour, soft drinks ☆ ※ All you can eat and drink 2500 yen At time, the beer menu will be for 1 person + 500 yen.
Available days for reservation

Monday - Thurs, Sundays, Holidays
Weekday only.2 people ~ Booking on the day OK !! We are limited on weekdays, but we can use it if there is vacancy at the celebration / weekend if there is room in the room ☆ Please call us first ♪ 300 kinds of super slowly drinking + 35 types of eating 3 hours ⇒ \ 2500 ♪ Organizations can also serve assorted assorted items at the start of all you can eat.For all you can eat, please order 3 items per person.※ cheese duck carpet will be in advance reservation system.
Course menu
Instant Happiness
Classic salt boiled edamame
Spicy spicy dull cucumber
Japanese style kimchee by grilled meat shop
Plenty of onion Tofu, soy sauce
Bari Salty Cabbage
【salad】
Sakura vegetables full of Japanese style salad
Caesar salad with sweet chicken slobber
【Egg · Cheese】
Take out voluminous Maya sauce rolls out snow and snow
Mentai potato cheese oven grill
【Broiled · Oven】
Broiled open hockey
What kind of goose-grilled Mayo sauce
Grilled salmon and potato tartar
[Stir fry]
Stir-fried sweet kimchi
Chicken and vegetable salted fish sauce
Braised beef and fried vegetables
【Fried】
Fried french fried chicken fried chicken fried Japanese style soup
Deep fried chicken and ponzu salmon with deep fried mother's salt
Deep fried chicken fried chicken fried and sugar soy sauce
Fried crispy fried Korean crispy freshly fried dumplings
Naniwa name fried Takoyaki
【Noodles, rice items】
Salmon cream pasta meat sauce pasta
Atsuta Mayo Takaaki pasta special dish from Asahige
Cheese seafood doria
【dessert】
Annin tofu capricious jelly green tea white rice dumpling
Petit Cake Honey Sweet Potato
All-you-can-drink menu
·beer
· Barrel · Shundeeffer · Red Eye · Cork Beer · Cassisubia · Pine Beer · Apple Beer · Orange Beer · Grefruvia ※ All you can eat and drink at any price of 2,500 yen, the beer menu will be 1 person + 500 yen per person.
·Cocktail
· Cherry · Cassis · Peach · Mango · Pine · Aloe · Banana · · Tea · Grin tea · Yogi · Kalua · Vodka · Gin · · · ETC Eat your favorite juice and ♪
· Fruit wine · Plum wine
· Plum · Cherry · Yuzu · Kabos · Sudachi · Giant Peak · Melon · White Peach · Orange · (Rock · Soda · Water · Hot Water)
· Shochu · Sake
· Shochu (wheat · potato · shiso · horseradish · soba · ginger · kelp · awamori · sesame · jasmine) sake
· Whiskey · Chinese sake
· Whiskey (rock · water split · soda split) Chinese liquor (apricot distilled spirit, shochu, gold shochu, hazel shochu · indigo straw)
·Highball
· SAKURA · Ginger · Cork · Shochu · Yuzu · Sudachi · Cabos · Plum · Lemon · Lime etc. 12 highballs
· Wine · Chinzano
· Wine (red · white) Tinzano (Rosso · rose · dry · half)
·Soft drink
· Orange · Grapefruit · Pineapple · Vineyard · Calpis · Milk · Oolong Tea · Ice Tea · Ginger Ale · Cola · Apple
2018/04/16 update